Worldr for Slack
Protecting your most sensitive conversations against third-party breaches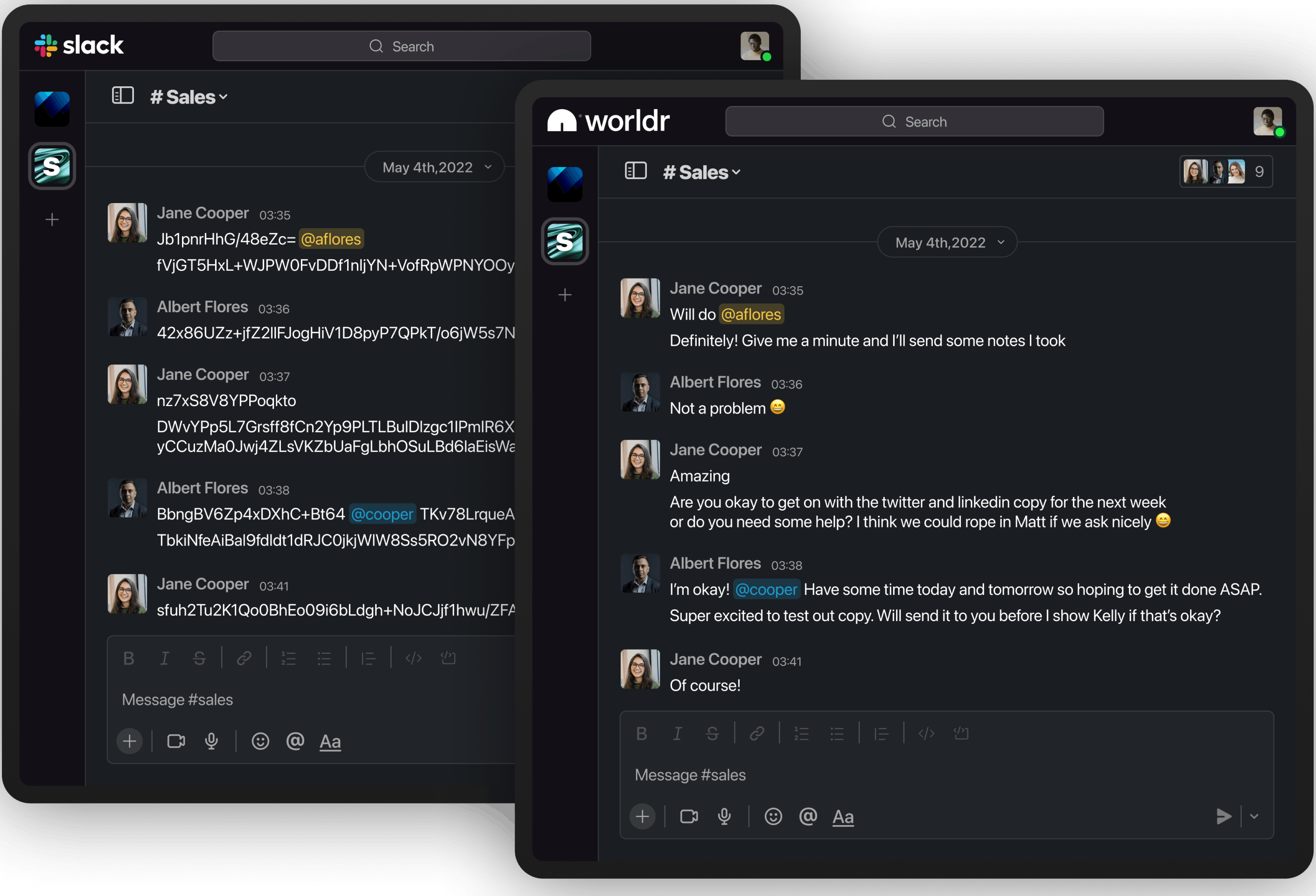 Enterprise level security, startup level spend
Worldr grows as your business grows
Ensure your data is secure within the confines of your own security team.
Restrict third-party entry of your growing database so neither Slack nor Amazon have access.
Meet compliance requirements
Comply with regulations and localization laws varied by region.
Decrease human level error
Limit access levels internally to mitigate human error within your organization.
Roll out Worldr for Slack with no disruption or need for retaining employees.
How Worldr for Slack works
Worldr sits on top of your existing Slack deployment to protect your conversations from third-party access.

Trust Nothing, Verify Everything. Worldr delivers a Zero Trust approach to secure communications.
Worldr for Microsoft Teams is built on a Zero Trust framework where every access point is continuously vetted to secure your data. Learn more about how we help to reduce security complexity, save money, and protect your most important digital assets with a zero trust architecture.
Learn more about Zero Trust
Find out how Worldr helps keep Kingdom Trust's financial data secure and compliant.
"Worldr offers us data security for our most sensitive customer data. An effortless implementation, we now feel protected against third-party threats."
Read Now
Industries that rely on Worldr
Empowering organizations to ensure security and complete control of your own data.
eBook
Moving to Zero Trust Security with the US Government
eBook
Moving to Zero Trust Security with the US Government
Download eBook
eBook
Decentralize the risk - strengthening cybersecurity in Finance
eBook
Decentralize the risk - strengthening cybersecurity in Finance
Download eBook
eBook
Managing Risk & Compliance for Healthcare and Pharmaceuticals
eBook
Managing Risk & Compliance for Healthcare and Pharmaceuticals
Download eBook
eBook
Never Trust, Always Verify: Zero Trust Security for Communications
eBook
Never Trust, Always Verify: Zero Trust Security for Communications
Download eBook
Case Study
Ensuring Financial Data Security & Defense for Kingdom Trust